📦In stock
🚛 Typically arrives in 15-20 business days
Ships worldwide for only $1.99
These gorgeous cow print acrylic nails are sure to make you stand out.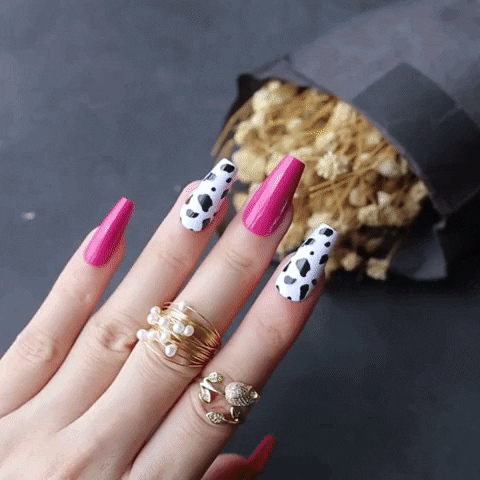 Nail Length: 20-26 mm 
Quantity: 24 pcs/set
Nail Width: 9.5-18 mm
Material: Acrylic
Nail pack includes 24 pcs (12 pcs cow print+12 pcs solid color)
What type of nail glue shall I use?
Nail glue is not included due to postal restrictions. Nail glue can be purchased at many drugstores.
Are your nails are reusable?
If you can treat your nails carefully, and use nail adhesive tabs,It can reuse
How long your nails last?
Depends on what kind of adhesive method you use but usually nail adhesive tabs last 1-3 days and nail glue lasts 1-2 weeks. 
How to remove nails?
The best way to remove the glued nails is to soak them in warm water for good 10-15 mins, then use the wooden pointy stick to lift the edges and wiggle it around to take it off.
How to Use: